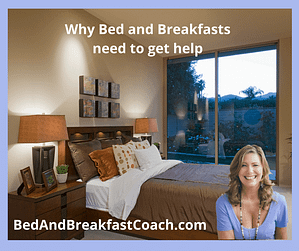 The first thing all stressed out, time poor Bed and Breakfast owners must do is to get some help with the cleaning, laundry and gardening/yard work
But you can't afford it, right?
I hear you
You believe you're saving money by doing it all yourself
What you're really doing is selling yourself short on every level
On the level of time is money and every minute you spend doing those chores, is another minute you could be spending connecting and building relationships with guests, past, present and future
On the level of self-worth, in the way you perceive yourself and consequently the way your guests perceive you, and to be seen and act like someone who cleans toilets for a living is diminishing your value as a professional business owner
On the level of how much you can charge for your accommodation, because someone who sees themselves as a cleaner (if only for some of the time) will never be able to charge premium prices however luxurious the rooms, or delicious the breakfast.
So not getting the help you so desperately need, is costing you on all fronts, and you'll never be able to get ahead of the competition and genuinely position yourself as the valuable person you are for your guests, when you're stuck in the "I have to do it all myself" mindset
Not in a million years
So if you're still defending your position on this, and reeling off all the reasons (aka excuses) as to why you can't get any help, then welcome to the rest of your life
It won't get any better than this
You've already gone as far as you can
I wish it wasn't true
But it is
Yvonne Halling helps time poor Bed and Breakfasts, Guest Houses, Inns and Small Hotels to increase their income by up to 67% and freeing up their time, so they can enjoy their life again.  Clients typically experience unexpected outburts of joy while working with her.  Would you like to know how she does it?  Register below to join her next Masterclass, where she'll show you how to make more, work less, pay less commissions with less stress.