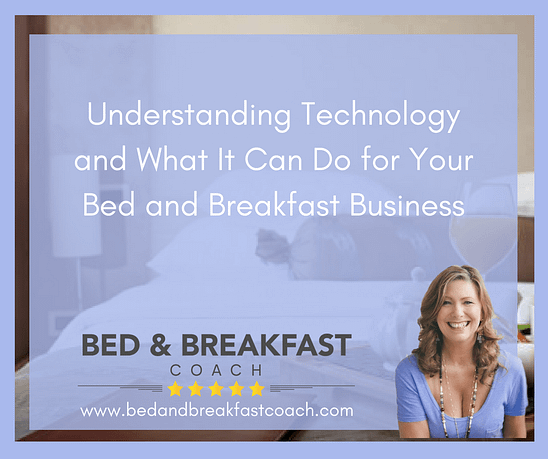 Hello, I'm Yvonne Halling at Bed and Breakfast Coach.com and today I'm going to talk to you about technology and give you my 3 top tips on what I believe are the essential elements to make your business work better, make you more money while you take more time off to do what you want to do.
Tip #1
Your online booking system with channel manager, linked to all the major online booking agents, if you're using them, is your first essential piece.  There are over 3 billion people online.  Your potential guests are online.  They may phone you or email you, but without the opportunity to book directly online on your own website, you could well be missing the people who want an instant response by booking online.  Make sure you've got all bases covered.
Tip #2
Your website is your primary sales tool, so make sure it's up to date, that you're using the blog to keep the content fresh and new for the search engines, and there's a clear path for your visitors to take to the booking page.  Good photos are essential, as are clear calls to action, and using your reviews as social proof.  Rather than crowd out your home page talking about all the awards you've won, think about how you can use emotional language to tell a story and paint a picture in the minds of your website visitors to draw them in.  Add an "about us" page so people can see who you are and who they'll meet when they arrive.
Tip #3
Your customer relationship management system is essential if you want to build a business you can count on for your future.  If you don't control your own database of guests, past, present and future, you're building your business on shaky ground, and it could all be blown away with a change on the other platforms you're using.  No matter where your bookings are coming from, or how successful you are at attracting bookings on social media, you're going to need to build your own database that you can use for future marketing.  Keep in mind that the large online travel agents have built huge databases at your expense, and they can cut you off in a heartbeat.
Look after yourself and build your own.
If you'd like to know more about how to use technology to streamline your business so you can free up even more of your time, then register below for my upcoming Masterclass where I'll show you how to make more, work less, pay less commissions with less stress.

Register for my next Masterclass: https://www.bedandbreakfastcoach.com/masterclass/