L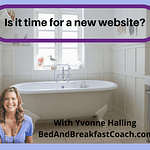 ast weekend I was visiting with my in-laws and we were reminiscing about good times we'd had in Champagne over the past 23 years.
I mentioned one of the attractions of the area – the Perching Bar – a champagne bar built on stilts about 10m off the ground, in the woods on the hill above our village.
Oddly, my in-laws had never been there!
So I went to Google (of course) to see if I could find something to show them
And there on page 1, I spotted a video about it, that I'd made in 2011!
On page 1 for the keywords – perching bar Verzy
Check it out for yourself
That got me thinking
If there's one thing I've learned over the many years running a B&B, is that you have to build assets, and that takes time
Everyone wants a quick fix
More guests NOW
More money NOW
But it just doesn't work like that
Instead of thinking about the "sticking plasters", think instead of what you can commit to building that will have a long-lasting effect on your business, well into the future
Your website is one of those most precious assets
It's your "home" online, where you can take people back to from any of the big social media platforms
Because you always want to be taking them home with you, right?
If your website isn't radiating out your unique experience, online where potential guests can see it, then it's not doing its job
My friend, Steve Driver and I have put together two proven and tested website templates that will allow you to either build a website yourself, or have it done for you, without shelling out thousands of $$$ £££ €€€ on expensive designers.
We've included all the essential elements so you don't have to think about what to put where and why.
We've done all the thinking for you, so you can just drop your own images and text and you'll be good to go.
And as February is the month of love, Steve's offering a free 30 day trial!
Check out the two options by CLICKING HERE
Any questions – just ask
With love and blessings
Yvonne
Yvonne Halling helps B&Bs, guest houses, inns and small hotels to make more money and free up their time.  Clients typically add between 20% and 67% to their business in one season, while experiencing unexpected bouts of happiness and joy.  CLICK HERE to book a free call with Yvonne to unlock the hidden cash in your business now