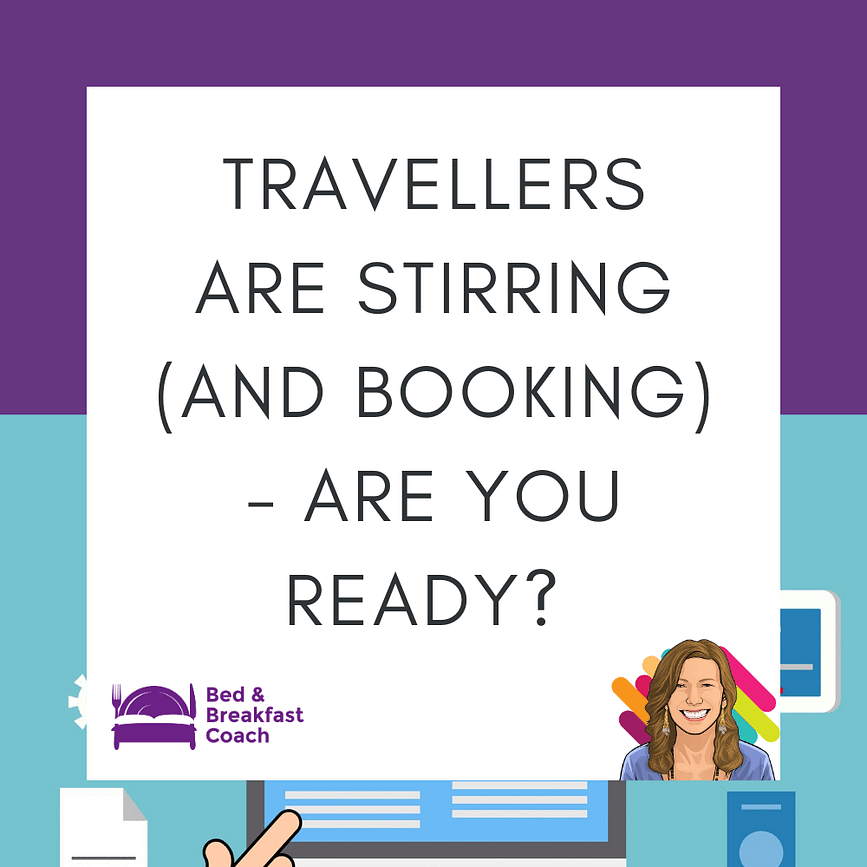 I was recently invited to participate in "Covid 19: The Road to Recovery" webinar with Little Hotelier and here are the highlights for you.  You can watch and listen to the whole webinar (90 minutes long)  here
People are travelling!
Bookings are up, up, up and still rising.  Now is the time to communicate with your past guests to let them know you're waiting to welcome them (whenever that point arrives for you)
Domestic travel is leading the way
In the UK, the seaside destinations are very popular.  But wherever you're based, capitalize on the need for people to escape the "cabin fever" and travel not too far from home.  Promote the "road trip", as public transport will be the least favourable option.  If you're using online travel agents, then seek out those who are promoting domestic travel, such last Lastminute.com.
You can get all the latest statistics for your country at Siteminder's Hotel Index here
Display your COVID 19 policy
Have a COVID 19 cleaning and distancing policy clearly displayed on your website so guests are assured you're doing all you can to protect them (and yourself)  Keep in the mind your local/national government guidelines and make your policies work for you.  If you don't want to welcome guests right now,  because you have vulnerable people in your home, you don't have to.  It's your business, you get to choose.
Communication is key
Whatever you decide to do, make sure you're communicating everything, multiple times, using different media so no-one misses it and you end up not meeting your guests' expectations.  Guests will accept anything you do or say, as long as they know in advance and can therefore make their own choices.
Small is beautiful and exclusive
Emphasise your small-ness and exclusivity as a B&B or Inn, including how you're taking care of your guests in relation to social distancing.  If you're re-organising your breakfast serving times, they may be getting exclusive access to the breakfast/dining room and/or common areas  – this is a huge plus for them.
You may be leaving rooms unoccupied to clear the air – let them know this.  Whatever you're doing, when you're small, you can make your own rules and make them good for your guests (while observing protocols and guidelines from your government)
Even if you cannot welcome your guests as you usually do, due to rules and protocols in your area – make the most of that and communicate it to your guests, both before they book (on your website) and after they book (during the relationship building process). Use technology to "be there" while "not being there physically".
It's reassuring for guests just to know that you're there for them
Promote your area
Local businesses in your area are desperate for customers.  Work with them to bring in the guests and their money to spend in your local community.  You are the only person who can do this. Fill this position.
DO NOT DISCOUNT your rates!
I've seen a heck of a lot of discounting going on and it worries me. The truth is the extra cleaning procedures and distancing will likely cost you more in time and money.  This is NOT the time to be lowering your rates.  You could even put them up, while emphasising the extra VALUE you're giving.
Bigger hotels may be engaging in heavy discounting, but the guests they want to attract are not YOUR guests, so don't be caught up in a price competition war.  You are unique and individual and your guests appreciate that, so don't assume they're looking for discounts.
Promote "Book Direct"
Guests have been brainwashed by the online travel agencies into thinking they're getting the "best rates", when we all know now that this isn't true.  You'll want to let your guests know that they'll always get "the best rate" (not the discounted rate), the best experience and the best of you, when they book direct.
The online travel agents will be back with a vengeance, and if you're working with them, they'll be putting pressure on you to discount.  Please stand firm in your value and don't submit to this behaviour.  They will win, because they'll get the bookings, but you'll lose as you make less money, and diminish your brand and the special value you deliver.
Take centre stage
This is a moment in time, an opportunity for you to step forwards and fly the flag for the small independent B&B owner or Innkeeper and all of the local businesses with whom you work in your area.  It won't last long, so use all the tools available to position yourself and reap the rewards of direct bookings
Everything is changing daily, and what you're going through right now won't last
Take heart, look to the future and seize the day
Yvonne
If you'd like to learn how to attract more direct bookings during this unique window of time, then go here to join the Book Directly Club, where we'll help you set up your very own rewards program that you, your guests and your local businesses will love, making you more money with less stress, and fewer OTAs in your life
Yvonne Halling is the Hospitality Consultant of the Year 2020 Prestige Award Winner for Leeds and West Yorkshire (UK) and a pioneer in the book direct movement where she helps independent B&Bs, inns and small hotels worldwide to add at least 25% to their income in one season, while working less.  Email Yvonne here to find out how