This week the UK B&B Association tweeted that Redgate Smithy B&B was closing its doors in October, and citing the online travel agents as the main reason why
This caught my attention, because I'm sure there are many other reasons why a B&B would close its doors, especially after 15 years of good service, but I wanted to find out more, so I put my detective hat on and went digging around
They say they've never used the OTAs, but feel under pressure to do so, and that they've effectively "lost access to their market". I was curious about this because as far as I know everybody has access to the worldwide marketplace, thanks to man's greatest invention yet – the internet
I took a look at their website.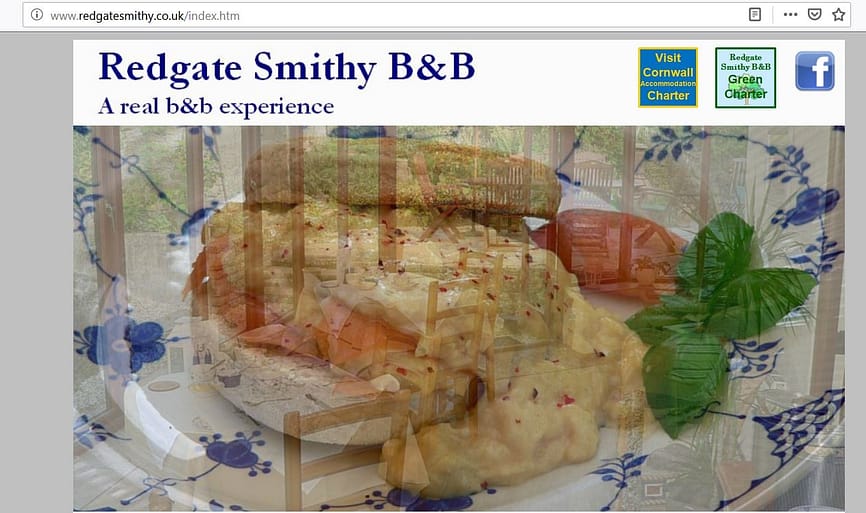 My first impression was that the website was "home made", with no clear customer journey thought out, no online booking system (reservation request only) and no indication of where in the world they're located.
What would have been better would be to use the most valuable piece of "real estate" (top right, above the fold) to put their contact details and where they're located. Instead they chose to put their awards and their Facebook page link, thereby taking people away from their site, when they've worked so hard to get them there in the first place
As for being open for business (your ability to take bookings and deposits online while you're doing something else or sleeping) is essential, otherwise you're putting barriers up
As I scrolled down the home page I found a generic, bland and uninspiring description of their property, trying to appeal to everyone
What would have been better here, would be to pick up on the reasons their guests choose them, and weave them into an inspiring and emotional statement and call to action – like this:
Pristine beaches, romantic moorland walks in the footsteps of Daphne du Maurier's Rebecca, and the peace and quiet of south east Cornwall await you at Redgate Smithy. Our 200 year old 4 star B&B, perfectly situated on the edge of Bodmin Moor for exploring the whole of Poldark's Cornwall, welcomes couples, families and business guests. Scroll down to choose your next Cornish adventure with us
It was difficult for me to find any pictures of the owners Clive and Julie anywhere on their website. If I was thinking of taking a trip to Cornwall and I stumbled upon their website, I would want to know who I was going to meet.
I recommend that you put your picture everywhere online (unless you're wanted by the Police of course! But that's not likely)
I searched for them on Trip Advisor and I was delighted to see that they had received 73 fantastic reviews. They're clearly doing a great job at the property, but as is unfortunately true with too many owners worldwide, they have not invested in or studied how to market themselves online. This is a tragedy, because when you have a great property, and guests love you, then why not tell the world?
They also weren't using their wonderful reviews as social proof on their website either.
Why not sprinkle them around to let potential guests browsing your website, know that you really are that good?
Then I went to their Facebook page. Bearing in mind this B&B has been operating under the current ownership for 15 years, I was surprised to find that their Facebook page started its life just 7 years ago.
It's a pity they didn't jump onto social media earlier, because they could have had more time to build up a following, which is currently at just 263
There's not a lot we can change about this, but to stress how important your following is, and to keep people engaged and entertained on social media. That's not to say Clive and Julie aren't posting, but it's irregular and not engaging people
I looked and looked to find a picture of Clive and Julie online, but alas, they were hiding from me. It's difficult to have a conversation with a building.
Finally, I can't be sure, but I'm willing to bet that this B&B has not built their own database of past, present and future guests, to whom they can consistently market, and does not understand the three crucial systems that every business needs – a system to attract customers, a system to have those customer spend more, and a system to have those customers return.
It's just not enough these days to offer comfortable beds, a great breakfast and be super nice to guests. Those days are gone forever
I'm really sorry to hear that this well-loved B&B is closing because of pressure from OTAs (among other things of course), but this story is not uncommon.
The industry is going through a huge transition right now, and the ones who don't jump on board with online marketing and learn the timeless business principles that will make them stand out from the crowd, will be left in the dust.
I heard from a client this week, that one hotel in her area was suffering from lack of bookings because it had become overly dependent on Late Rooms, which went out of business recently, so you can imagine what's going to happen to that hotel soon
Don't let this be your story 🙂
Yvonne
Yvonne Halling helps B&Bs, Inns, Guest Houses and Small Hotels worldwide to take back control from the online travel agents and build a business and lifestyle they love. Clients typically increase their business by between 20% and 100% while experiencing direct bookings on demand, a huge boost in confidence and unexpected outbursts of joy and laughter
CLICK HERE to book your free Business Breakthrough Call with Yvonne now to explore ways that you too could experience this 🙂