Did you know that over half the world's population is now online, and 1.3 billion people are on Facebook?
It used to be that Facebook was just for posting pictures of our pets, babies, what we had for lunch, but over the past few years, it has become the largest platform in the world for doing business.
It's now a place to connect with people, find work, opportunities, customers, and that means your guests
But if you don't know how to use it as a tool for your business, rather than a toy to play with when you feel like it, then you're unlikely to have much success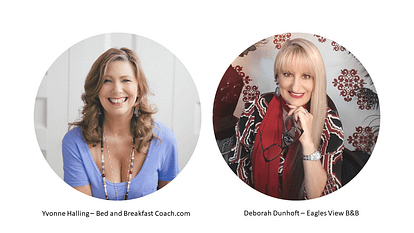 Deborah Dunhoft of Eagles View B&B and I have created a training for you, so you can stop wasting time on Facebook and start using it as a tool to get direct bookings in as little as one day!

On this step by step online video training, we'll walk you through the simple methods that Deborah has been using to not only attract direct bookings for her B&B, but also to fill her womens retreats
Once you learn how to use this powerful platform to your advantage, you'll be free to create bookings on demand, whenever you need them
In this online video training, here's what you'll learn…
How to use the events feature to create buzz and awareness for your Bed and Breakfast, Guest House, Inn or Small Hotel to get people interested in what you do, and meet you face to face, online
How to schedule your daily posts on Facebook so you're constantly top of mind, so the giant algorithym will work in your favour and more of your potential guests will see you (for free)
How to use Facebook's own tools to work in your favour, so you're being seen and heard, with eye-catching posts that will make potential guests want to find out more about you (for free again!)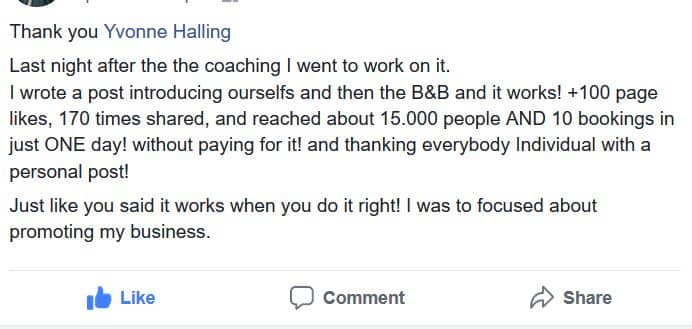 If you want to learn how to use the largest platform in the world to attract more direct bookings, without paying for expensive ads, and have fun doing it, then you'll need to click on the button below to get this training now for just $65
PLUS – for the first 10 people who purchase the training, you'll get a free consultation with Deborah