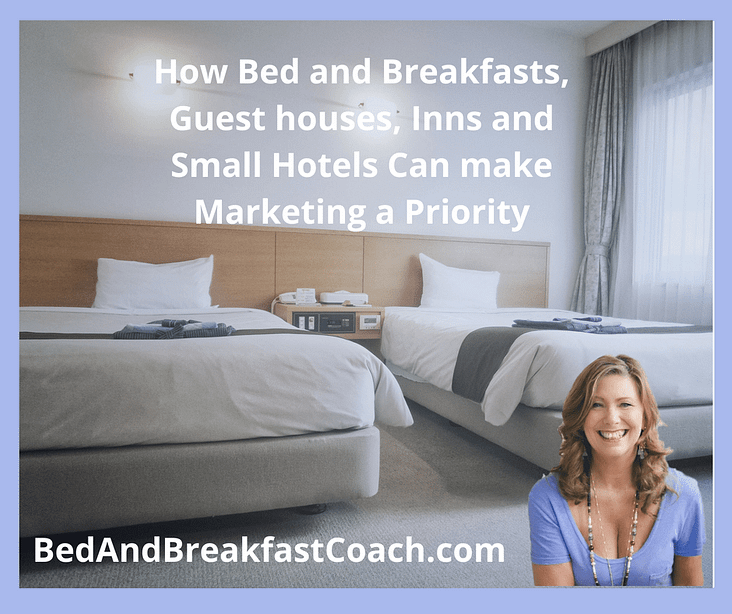 When you're running a bed and breakfast, guesthouse, inn or small hotel there are three areas that will compete for your attention. First, the daily tasks of cleaning, cooking, laundry, maintenance. Second interacting with your guests checking them in, checking them out and helping them to have a great time with you. Number three is marketing to make sure that you've got a constant stream of guests you'll want to book with you, finding out about you, coming back to stay again and again and just keeping in touch.
First the daily tasks of cleaning, cooking, laundry and maintenance can be done by someone else with a little bit of training from you. Does this mean that you'll never ever have to do any cleaning or laundry again? No, of course it doesn't. But in the main those tasks must be taken care of by someone else, not you.
Second, think about how long you really need to be with your guests. Most owners overate this thinking that they have to be around and on-call day all day and all evening and this makes for loose boundaries and guests won't respect you because you're not respecting yourself. See if you can tighten up the guest interaction part of your day to free yourself up for your main priority, which is marketing. This is the part that only you can do and you need to get skilled up on it and yet you're probably not used to doing this or maybe you've never even thought about marketing when you got into this business. But unless you want to hand over your business to the huge online travel agents and pay their commissions forever, you're going to have to get a little bit good marketing yourself and your business. If you're proud of who you are and what you offer you won't have any problem but for most of us especially just starting out self-promotion brings up all kinds of self-doubt. Just know that it's perfectly normal but you'll need to tackle the issues at some point if you're serious about your business.
Here's my Three Top Tips for Making It Easy and Fun To Do the Marketing.
Tip number one: If you can't get promote or brag about yourself promote your area instead. This way, you'll become known as the expert in the eyes of your guests for your area and your guests will look to you for the best information around.
Tip number two: Find your own voice. Whether you like writing, whether you like speaking or being on camera like this try to find the right medium for you, so that you feel comfortable sharing your knowledge. Don't try to copy what everyone else is doing. Just do your thing in your way and you'll come across as much more authentic and real. Don't worry about getting it all perfect, just make sure that you're out there online and offline if appropriate in front of your potential guests interacting with them and encouraging them to check you out.
Tip number three: Have a plan for your content, so that you're creating it in batches. That way, you will always have a supply of content that you can repurpose and reuse on different platforms and different media. Use the free and cheap tools available to help you. Sites like Fiverr.com for freelancers who do little jobs for you for five bucks and canva.com to create images for free will help you to build up a library of pieces of content that you can use. You can plan and create during your quieter times so you're not under even more pressure during your busy times.
If you'd like to know more about how to make time to market your business in a fun and enjoyable way for you so that you can free up even more of your time then register below for my upcoming masterclass or I'll show you how to make more work less pay less commissions with less stress. So click on the link below and register now and I'll see you there.

Register for my next Masterclass: https://www.bedandbreakfastcoach.com/masterclass/