Did you know that 75% of consumers favour businesses who have a rewards program?
And did you know that it's possible to have as much as 65% of your business come from past guests?
Most owners focus on getting new guests, instead of encouraging their past guests to return.  But the acquisition of a new guest the first time is way more expensive than repeat business from existing guests.
Having a rewards program allows you to invent great reasons for your guests to return and to refer you, while keeping you out of the price-sensitive competitive market place
It puts you in a market of your own
But aren't we all fed up with loyalty schemes where you just accumulate gazillions of points to eventually spend with anonymous big-box stores?
What if you could create your own guest rewards program, tailored specifically to your guests' needs, your business and your location, without discounting or giving anything away
Let's look at some of the benefits of that
First, remember that YOU are the source of new money in your local community.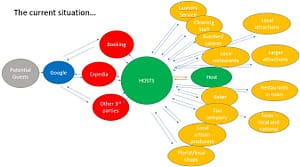 You attract guests who come with their money, and they're looking to spend that money somewhere.
What if you could provide the best opportunities for them to spend it with your hand-picked recommendations.  That means choosing some of your local businesses to whom you can refer your guests
You're probably doing this already, but does anyone notice?
With your own rewards program, you'll be able to track who redeems rewards and where, positioning you as the trusted advisor for your guests, and the bringer of new business to your community – new business they couldn't have got on their own
How will this benefit you?
Remember that 75% of consumers prefer doing business with people who reward them
With your own tailor-made rewards program, you'll have innovative tools to help you attract those potential guests, who'll be so delighted with the effort you've made to guide them, they won't be able to stop themselves referring you to their friends and family
Meaning more direct bookings for you!
When you join us in the Book Directly Club, we'll personally guide you to create your very own rewards program to help you get away from the online travel agents, command higher rates, and make discounting a thing of the past
Click on the button below to find out more
Yvonne Halling is an award winning hospitality consultant, creator of the B&B Money Maker Business Transformation Program and co-founder of the Book Directly Club, where she helps B&Bs, guest houses, inns and independent hotels to add at least 25% to their income in one season, while working less and having fun.  CLICK HERE to book a free Business Breakthrough call with Yvonne to discover the hidden opportunities in your business today