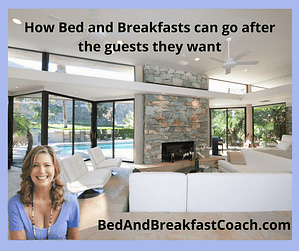 I've been spending a lot of time over the past couple of weeks and especially this weekend thinking about who I want to help in 2017.
This has involved the "know your ideal customer/client/patient/guest" scenario, and even though I've done this exercise dozens of times, I did it again, because things change and over time and with increased confidence, you gain more clarity.
Once I'd figured out exactly who I'm going to serve this year, I needed to understand what's keeping them awake at night and the problems they need help with
Again, I've done this before, conducted lots of surveys, so I have a good idea what's going on.
So now I'm ready for the next step
Where are the people who need my help?
My ideal client is a bed and breakfast, guest house, inn (USA) or small hotel owner, where the owner/manager is responsible for the bottom line.
Their challenges are:
Paying too much commission to online travel agents like booking dot con
Not able to attract direct bookings via their own websites
Wanting to charge more but concerned about local low-priced competition
Filling rooms in the off season
So where are they?
First, your customers are online (everybody's online)
How do you find them?
Here's the steps for "going after the business you want"
Go to LinkedIn. You can do this on Facebook too, but LinkedIn offers so much more in terms of targeting.  Go to "connections" and then at the top right click on "advanced search".   Then on the left hand side, there are fields to fill in – do one search per criteria.  Here's what I did:
You also want to tick the box "2nd connections" which is under the blue "search" button.
I then went and did more searches on the same keywords and titles for the UK, Australia, Canada and New Zealand – my ideal clients' countries.
For the first search, I got 1027 results.  Not bad.
Now I need to reach out and connect with them.
This requires a well thought-out relationship building sequence of messages.  This doesn't mean selling anything!
I've been sending out connection requests in batches of 10 and then tracking the response, in case I need to tweak my messages.  So far I'm getting around 10% positive response, but it's early days.
Next, you need to position yourself as an "authority" in your area of speciality. This means letting your new connections know where else they can find useful information online to help them with their challenges, preferably in your free Facebook group or LinkedIn group, whichever one you're using to build your tribe.
So far, 6 new connections have joined one of my groups
Once they enter into your free community, you can present them with your lead magnet which helps them get a little result around the challenges they face, in a small amount of time, so that they will want to find out more. You'll also need a nice follow up email sequence following your lead magnet download in place to build trust and goodwill.
So far, 5 new connections have downloaded my lead magnet since I put this system into operation this morning 😉
By the way, you can do all this on LinkedIn for free, but I did in fact opt for the Premium service (1 month free trial) because you get more data and tracking tools.
In addition to all this activity, just today, I've been invited to write two articles – one for a major hospitality publication in the UK and another for a well known innkeepers association in the USA.
I've also had 3 unsolicited connection requests on LinkedIn and one private message, following a group discussion about a relationship building email sequence for booked in guests, which is one of the 3 crucial systems you need in place to make your business work.  This is  something I've been doing with my own guests for more than 6 years, which allowed me to double my business, and I've been teaching it to my clients now for the past 4 years where they have also had amazing results!
The scourge of the "creator" profile – ideas always ahead of the curve!

So what can you do?
Decide on who specifically you want to help this year
Find out what keeps them awake at night
Reach out to them on LinkedIn or Facebook – whichever feels right for you
Position yourself as someone who can help them solve their challenges by letting them know what else you have for them
BUILD RELATIONSHIPS! (I've put this in caps because it's SOOOOOOOO important)
Just taking this action, will change the energy around you, and who knows what will happen next!
Credits:
I'm not going to pretend that I dreamed up this whole system all by myself, so:
For the LinkedIn search, positioning and messaging system – CLICK HERE to check out Josh Turner's Appointment Generator for consultants, coaches, professionals and experts – a lot of background work, but worthwhile
For the lead magnet and follow up sequence, CLICK HERE to check out Veronica Pullen's Lead Magnet Academy for coaches, consultants, experts and therapists
And if you're a hospitality business owner, then CLICK HERE to check out my own relationship building system for booked in guests.  Here we help you set up your three essential systems to reduce commissions you're paying to online travel agents, attract more direct bookings via your own website, fill your rooms in the low season and charge more, despite what's happening with your local competition. This is all my own work, proven and tested by me over and over in my own B&B and by my clients
"Within one season I have increased takings over 20% even though we were closed for 6 months while we renovated two of our rooms.

I'm also finding more time for tasks that were haunting me for failing to attend to the previous year. Tasks I preferred doing but was too 'time poor" to do.

I'd strongly recommend any B & B operator to get Yvonne's help to get them past their stumbling blocks and create a business that works and that they really enjoy."

John Davidson, St Andrew's Escape, New Zealand

Whatever you do, have fun 🙂
Yvonne
Yvonne Halling helps passionate bed and breakfasts, guest houses, innkeepers and small hotel owners to attract more direct bookings, reduce commissions to online travel agents, fill rooms in the low season and charge more, despite the local competition. 
CLICK HERE to pick up her free report "Make More, Work Less While Adding Huge Value to Your Guests (and your bank account) now.
Save
Save