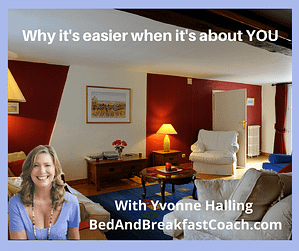 Starting a bed and breakfast, guest house or inn is a dream for an increasing number of people.
They want to escape their jobs, change their lifestyle, have their own business, be in charge of their own destiny
They look at busy tourist destinations and think, well with all these people coming here, we could open our B&B here
And you could
But here's where it'll be difficult
If you choose your B&B solely on its busy location, you will be just the same as everyone else, trying to grab some market share, lowering your prices, and trying to "beat" the competition
Yes, location is VERY important, but it's not the only factor to consider
The location must hold a genuine interest for and appeal to YOU
It's too easy to fall in love with a beautiful property in a wonderful location, where tourists are already coming, and even easier to fall in love with an already successful business that you may be considering buying
But if that location holds no special place in your heart for reasons that you can relate to personally, then you'll have a hard time differentiating yourself from everyone else
If you're thinking of starting a bed and breakfast, guest house or inn because you want to escape your job, change your lifestyle, have your own business and be in charge of your destiny
Here's what to do instead…
Take a long hard look at YOU, your passions, your interests, what you love to talk about, watch on TV, do in your spare time
Now seek out some locations that correspond to the things that interest you.
For example, if you're interested in and know a bit about wine, seek out a property in a wine producing area.
If you're passionate about trains, consider buying a property on a main junction like Tom Davies did
If you love the great outdoors, hiking, trekking etc. find your place there
Next check online that there are groups on social media dedicated to talking about your thing/s, where you can interact and make friends
Lastly, check that people are coming to your proposed location for those things you love
When you get all three elements lined up, you'll have no problem attracting guests, having fun, making money and loving your life
Your location, your guests and YOU, in alignment
If you get this wrong, well, I think you know what happens 🙂
Yvonne x
Yvonne Halling helps bed and breakfasts, guest houses, inns and small hotels to increase their business by 20% – 67% in one season while experiencing unexpected outbursts of joy and happiness.  CLICK HERE to book a free consultation with her to find the hidden potential in your business now