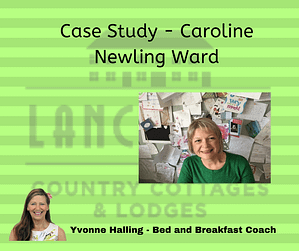 ***CASE STUDY***
"I have been following you (not in a stalker way) but your page and insights ever since I saw you present at a Dorset Tourism (UK) conference a couple of years ago. After 5 years in my business, I am suffering with a severe lack of confidence in my marketing abilities and do not want to follow the route of attaching myself to any more OTAs."
Caroline Newling Ward runs Lancombe Country Cottages and Lodges in Dorset, UK and began her journey with us in April 2019
We began by getting clear on who she wanted to welcome and why, and the unique experience she is offering, and putting her personality front and centre, so guests would relate to her – online
We re-organized and re-wrote her website copy to reflect her proposition to attract her ideal guests (families, children, dogs). We produced new graphics and 12 pieces of professional video content that she is using on her website, on social media and on her newly created YouTube channel – all out there online working for her, building her brand while she sleeps
This immediately began attracting more bookings for her, which gave her a real boost in confidence
Next we tackled the problems on site. She'd had a bad experience with an employee which meant she was reluctant to hire anyone else and was consequently doing a lot of the cleaning herself and becoming exhausted. This meant that energetically guests were not respecting her, and she felt resentful, further diminishing her own self confidence
We fixed that and she hired a fabulous lady (who she already knew) which freed up her time to concentrate on marketing and promoting her business
This meant that even more bookings were coming in, and Caroline really stepped into her own creativity here, producing regular video and written content for her website and social media to her growing and now-adoring fan base!
We then installed the 3 essential business systems:
– a personalized upselling system for each of her different types of guests (8 altogether), so she could increase her revenue per guest;
– a system for attracting new guests, by way of a core piece of content, curated by Caroline and designed to attract potential guests into her world, where she builds a relationship with them, all on autopilot;
– a system to make offers to her list of past guests, inviting them to come back, which she can re-purpose over and over again each time she has another idea
More bookings came flooding in from both new and past guests, all dropped neatly into her personalized upselling system, which sells for her while she's out having fun
These three systems form the "engine" of her business which purrs along in the background needing only the implementation of Caroline's ideas to keep it running and making money for her
Then Caroline went wild and unleashed her pent up creativity even further! She created more promotional videos of her special services – Halloween Party, Christmas Party, indoor pool, dog exercise area, Magical Fairy Woods, show-casing local attractions, and on and on on – there was no stopping her!
In fact, during the 6 months working with us, Caroline has turned herself into a creative ninja, a video marketing goddess and the hostess with the mostest, respected and loved by ALL her guests and her employees
Her transformation from "commodity to celebrity" is complete, except to say….
She has…
– Increased her business in 2019 by 15% over 2018
– At this point at the beginning of January, revenue from forward bookings for 2020 is 53% up over this time last year
– Re-financed her property (despite a previous failed attempt) on more favourable repayment terms (her new bank manager is now a raving fan!)
– Won a local tourism award (of course!)
– Relinquished all housekeeping duties to her trusted housekeeper
– Taken a holiday!
It would be an understatement to say, she has completely changed her life!
Here's what she said about her experience:
I am utterly overwhelmed by the transformation that has taken place, both personally and professionally since my time with Yvonne. My start to 2020 was 'on top' with directing my future for the next year, whereas at the beginning of 2019 I was dreading what the future would be. I am not a drama queen, nor (and as much as I joke about it) am I the makings of the next top Vlogger, but I have had a blast, and with the confidence and tools I have been given by Yvonne, I continue to do so. I am extremely grateful to Yvonne, for pushing me when I needed it for having fun, being my safety cushion and my trusted confidante and most of all for helping me to see who I really am. I AM the Queen and this is MY castle. Thank you lovely lady
(The pleasure was all mine!)
Check out Caroline's special brand of craziness here:
Facebook Page
YouTube Channel:
Website
Ready to change your business (and your life) in 2020?  Click below to book a private 1:1 Business Breakfast call with Yvonne now to find out if we're a good fit for each other