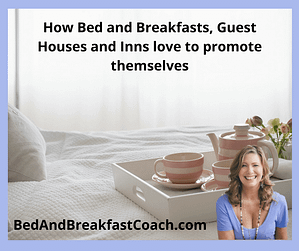 While running a bed and breakfast, guest house or inn is rewarding and fulfilling, if you're not doing any promotion, chances are your ideal guests aren't going to find you and they'll be missing out on the amazing service and experience you offer.
We now have the luxury of multiple online channels on which to do this, and if this is not the first time you're seeing this post, that is the whole point 🙂
Here's what happened recently when I talked with someone who needed some help.
She had watched an old video of mine on You Tube and then gone off and purchased some software that I had recommended in the video, and then proceeded to invest in learning about the software.  Her results had been mediocre and she wasn't impressed.
I asked her why she hadn't come directly to me in the first place and her answer shocked me
She said she didn't know about my programs!
Now I thought I had been promoting them well, but obviously I hadn't and that bothered me.
Isn't it strange that what we think is promotion, sometimes never reaches the hearts and minds of those who need us most
So I'm here today to let you know exactly what I have created for you, and who would benefit
First up I have an elearning centre, where there is a series of inexpensive individual home-study trainings, with video tutorials, PDF Workbooks, templates and examples to follow, which solve specific challenges:
How to set strong boundaries, avoid resentment creeping in and get a grip on time management
Basic housekeeping principles for smooth operations and good communication with your guests
Which key financials you need to track and why, together with downloadable and pre-formulated spreadsheets so you just have to pop your own numbers in
A powerful exercise on how to excavate and uncover your unique value, so you can position yourself and your property apart from all the other properties in your area and charge more
The psychology and designing of a website that works, so you include all the necessary elements in all the right places to turn lookers into bookers as quickly as possible
An introduction to how to use technology as your employee to free up your time and make sure your guests are well-informed before they arrive
Setting yourself up professionally on social media, so you will be noticed and recognised – so many Bed and Breakfasts, guest houses and inns haven't got this in place
Why blogging is important to attract your guests to you, and where to find a great source of topics to blog about, if you're stuck on that
CLICK HERE to see all the trainings to select which ones you need right now
Next is my all-time favourite – Bed and Breakfast Marketing Breakthrough Program 
This revolutionary 90 day group coaching and mentoring program covers the three essential systems necessary to attract direct bookings, reduce commissions to the online travel agents, fill rooms in the low season and charge more.
I've witnessed clients experience major breakthroughs from this program, not only in dramatically increased income in their businesses, but in self-awareness, confidence and happiness and that's why I love it so much.
It's a combination of home study, live weekly coaching and mentoring calls for solving individual challenges, hands on technical help and accountability, and it's run by me and my team
Those who benefit the most from this program are already established with 4 rooms or more and are hungry for a change in the way they do things, and motivated to either make more money, free up their time or both

If you have goals you're not reaching or you're wondering if there's another way to run your business without feeling so stretched, then CLICK HERE to find out more.
And finally, each year, I work with a handful of clients 1:1 where I develop a bespoke strategy and we implement it together.  These clients are usually those who prefer confidentiality or they're new to hospitality, want to avoid the common pitfalls and are prepared to invest in education and expertise to start in the right way.
It's a combination of home study, private coaching and mentoring calls, email support, bespoke trainings, hands on technical implementation help and accountability and is personally run by me.
If you're just starting out, and you know you're ready to learn how to start a Bed and Breakfast, guest house, inn or small hotel successfully in this new digital landscape, then CLICK HERE to book a free, no-obligation call with me so we can see if we're a good fit.
What could you be doing right now to promote yourself and reach more of the guests YOU want to welcome?  Please do leave me a comment below

Yvonne Halling helps Bed and Breakfasts, guest houses, inns and small hotels worldwide to implement award winning online marketing systems to attract more guests, reduce commissions to and dependency on online travel agents, fill rooms in the low seasons and charge more.  CLICK HERE to book a free, no-obligation call with her now to determine what you need to move forwards quickly
Save
Save
Save