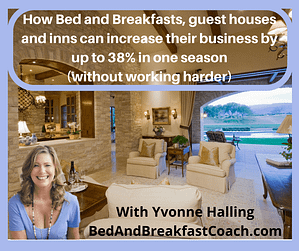 Two things happened last week, that I think you'll be interested in.
First, I got an email from a client I've been working with, detailing her results in 2017
Turnover up by 38.8%
Occupancy rate up by 6.5% (which means that there weren't a whole lot more guests, they just spent more)
Bookings via the OTAs down from 45,2% to 21,9% (which means she made more profit and she's taking 100% responsibility for attracting her own guests)
Her property has 8 rooms, so these numbers are not insignificant
How did she do it?
By implementing three essential systems in her business, pouring the "oil" of her creative imagination into it, turning her "engine" into a well-oiled machine.
What are these essential systems?
Attracting the right guests for you – the ones you love to welcome
Inviting them to spend more of their money with you – rather than with someone else
Encouraging them to come back and refer their friends and family
These systems are timeless business principles, that seem to have passed the hospitality industry by, hence the rise of online travel agents, who have very "kindly" stepped in to do 1),  and 2) and 3) seem to have been forgotten about, in favour of 1)
And the second thing that happened?
Another client I've been working with for 2 years now, suddenly discovered that 100% of her bookings came direct in December.  She now knows what it feels like to be attracting ALL her bookings herself, eliminating commissions forever
Do you want these kinds of results yourself?  Is 2018 the year you finally take responsibility for having the bed and breakfast, guest house or inn you've always dreamed of but never quite got?  CLICK HERE to book a call with me to see if it's even possible for you
Dedicated to your success
Yvonne x
Yvonne Halling has been coaching and mentoring a select number of Bed and Breakfasts, Guest Houses, Inns and Small Hotels since 2013, teaching them how to attract direct bookings with guests they love, reduce reliance on and commission to the online travel agents, manage time and work effectively, fill rooms in the low seasons and increase their rates.  Click on the link below to schedule a call with her to see if you qualify