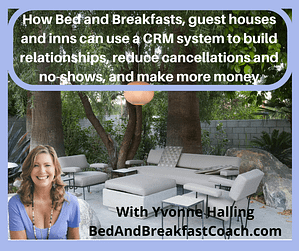 A lot of people ask me "what's a CRM system and why does it matter?" so I wanted to let you know why I believe this piece of technology is going to become your best friend in 2018 and beyond.
A CRM (customer relationship management) system is where you legally keep all your guests' information, such as name, email address, home address, date they arrived, date they left and any other details that is going to allow you to specifically serve them with any offers you make.
It's also a legal place to keep the names and email addresses of people who haven't yet stayed with you, so you can encourage them to book with you when the time's right.
Communications via your CRM system will help you to increase the amount guests spend with you, and when done right, you can add massively to your bank account, without a whole lot more guests, as many of my clients do.
It will help you to build a relationship with your booked in guests and reduce cancellations and no-shows
It has so many essential elements, that I recently did a training for Mark Simpson of Boostly, where I explain how a CRM system works
I walk you through the three essential systems that your business needs to have in place to compete in today's digital world using your CRM, and you can CLICK HERE to get this training now
There's a lot of noise about Facebook, LinkedIn, Instagram etc. but without a CRM, your business has no "engine" and everything you do on those platforms, or anywhere online will come to nothing.
If you don't have a customer list, what do you have?
I believe that there are only 3 things you need in business:
A website that converts lookers to bookers, without you
A CRM system to run your 3 business systems, with little effort on your part
Your creative imagination
Everything else is secondary until you have these elements in place
CLICK HERE to get this training now
Dedicated to your success
Yvonne x
Yvonne Halling helps Bed and Breakfasts, Guest Houses and Inns to attract more direct bookings, reduce commissions to online travel agents, fill rooms in the low season and charge more, despite local competition.  Clients typically increase their business from 20 – 67% in one season, while experiencing unexpected levels of happiness 🙂  CLICK HERE to book a free consultation with Yvonne to find the hidden potential in your business