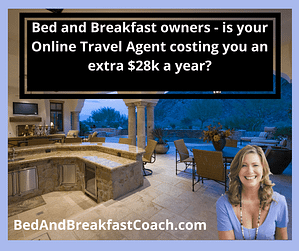 This morning I opened my Facebook feed to find yet another post by another disgruntled owner.  Yet another post about the changes in terms of business by the online travel agents that massively benefit them, but not us
Too many owners have fallen for the promise of instant bookings, not realising the long term impact of working with these giants, both financially and psychologically, and now don't know how to get "off the teat"
This time, it wasn't about booking dot com
This time it's bed and breakfast dot com which is a listing site mainly for properties in North America.
They've just changed their terms of business
Surprise!
Instead of paying for a listing, they'll be operating on a commission basis
This means that where they were previously charging around $700 for a listing, they stand to gain as much as $28,500 per year – from just one property!
Cool move, right?
For them, yes
For the owner, most definitely not
But they don't care, because even if they lose a few customers, they still have thousands of them willing to give up their hard-earned cash in exchange for bookings, at any price
The tragedy though is that the owners think they can do something about this
This makes me so sad
But seriously, we could all see this coming, couldn't we?
They don't care about us. Period.
It's all about the money for them, and they don't care whether someone books your place or your neighbour's place, as long as they book through them so they get the commission, and they own the customer
But I'm here to tell you that it doesn't have to be this way
There is another way and there is hope
Because the methods they use to attract bookings and own the customer are available to you too
There are few new things to learn, for sure but it's not rocket science
And compared to what you'd be giving away year after year to the online travel agents, it's going to be way more cost effective for you
Here's what you need to know
You need to know how to find and attract the guests you want to welcome, and demonstrate your value to them.  With all the online tools (many of which are free) I promise you, this has never been easier
Once they've made a booking you need to know how to build that all-important relationship with them, and offer your extras so they can't wait to meet you.  This will massively reduce your cancellations or no-shows, while adding to your bank account
You'll need to build and maintain a list of your past guests so you can access it easily and communicate with them on a regular basis, so you're keeping the relationship alive and well.  This means you can let them know about your special offers or events first, which makes them feel special and who doesn't want that?
These three fundamental systems are the backbone of any successful venture but seem to have bypassed the hospitality industry for some reason
Once you've got these in place, you can mess around on Facebook, Twitter, YouTube, LinkedIn, Instagram or any other platform to your heart's content because each post you make, each comment you make is getting you in front of and building relationships with your ideal guests and their friends
And that is your job
Are you ready to learn how to do this, or are you happy about paying those ever-increasing commissions, and experiencing the psychological side effects of not being in control of your own business?
You do have a choice
CLICK HERE to book a call with me to explore your options and put a strategy in place for you to take back control once and for all
Those big boys aren't going away, and your livelihood is at stake here.
Yvonne x
Yvonne Halling is the leading consultant, coach and mentor for bed and breakfasts, guest houses and innkeepers worldwide, where typically her clients increase their business by at least 20% in one season, reduce commissions to online travel agents, fill rooms in the low seasons and have outbreaks of sheer joy!  CLICK HERE to book a no-obligation free call with her to find out where your business is not lighting you up
Save
Save
Save
Save
Save
Save
Save