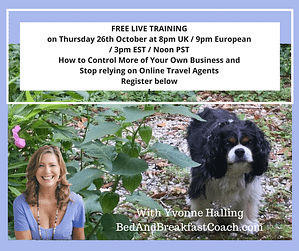 Yesterday my beloved dog Pepper passed peacefully away in his sleep.
It was totally unexpected even though he was 13 years old, and to say I am heartbroken is an understatement
The day before, on his walk, he was running around the vineyards as usual
If you've ever had a dog and then lost one, you'll know what I'm feeling right now
The grief is real
Here he is
R.I.P. Pepper x
Sometimes life deals a blow and you just have to deal with it.
Last week in the Facebook group, we were informed of yet another change in the way one of the online travel agents run their business
There was a tirade of posts by outraged people
Thinking they could somehow change things if they shouted loud enough
Maybe they could, but most probably not
The only real way to deal with the online travel agents is not to use them at all
If you're interested in finding out more about how you can do that, then CLICK HERE to join me on a free Live Training on Thursday 26th October at 8pm UK / 9pm European / 2pm EST / Noon PST
In this free training I'm going to go deep into 3 core essential principles, so that you can control more of your own business and keep more profit for yourself…
How to find and attract the guests you want
How to increase their enjoyment without you working any harder or trying to be nicer to them
How to create opportunities for repeat bookings, whenever you need them
CLICK HERE to join me
Love and blessings and if you have any fur babies, please give them a hug from me
Yvonne x