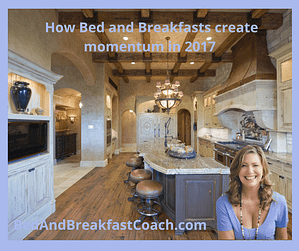 Inspired by an email from Dan Priestley this morning, here are 13 things to do for you and your hospitality business to create momentum in 2017.
1. Say NO more.  Evaluate what happiness and joy looks like for you – In 2017, your life can be however you want to it to be.  Say no to guests who no longer bring you joy.  You can have a business that lights you up. The choice is yours.
2. Find your niche and become an "expert in the eyes of your guests". Being a generalist in 2017 is a bad idea. Even if you can't see a niche right now, you can become an expert on your local area (in the eyes of your guests) – everyone can do this.  Lead with this, not your prices.  And when you do, you'll be seen as more valuable, which means you can charge more.
3. Get a team and delegate more stuff  – I've heard all the arguments about not having enough money to get a cleaner or outsource the laundry and how no-one can do it as well as you. It doesn't work. The best businesses have a small team of people who are engaged in making the business work, with you as the leader out there, attracting guests.  The people you employ or outsource to should feel part of what you're doing, not just some random add-on.  We have to learn to lead. Those Trip Advisor certificates of excellence don't come from you just being nice to guests – there's all the stuff behind the scenes – it's a team effort.  Make sure your team know how they've contributed.
4.  Stop discounting.  It's a habit that you need to break.  Travellers are travelling more and spending more.  There's no shortage of guests, so drop the lack-mentality and stand in your value.  When we compromise, it always turns out bad later on.
5. Have a high-ticket item. The money has moved up to the top 10% of the population and a small group of people have a very high budget for meaningful experiences that enrich their lives.  In many cases, it's easier to sell a high ticket offering than to haggle over a discount.  Take your most expensive offering, and ask yourself, how can I add more value to this (and charge more)? Then launch it to your past guests.
6. You're in the media business.  You need to become better at putting yourself out there personally, creating the media that tells your story and the experience you offer your guests. You need lots of videos, blogs, downloads and fresh engaging content on your website and on social media.  Stop hiding.  We want to see your face 🙂
7. You are also in the technology business  – in addition to the media, you'll also need to be more tech savvy. You need systems that do the heavy lifting for your business. You need technology to work as your employee to build relationships with new guests, potential guests and keep the conversations going with past guests.  You need your website to be mobile, desktop and tablet friendly.
8. You need to have your own database.  Decide that in 2017, you will make this your priority and learn how to do it.  Without it you will be forever at the mercy of the online travel agents, fickle reviews and guests you don't like.
9.  You need to be more authentic.  Learn about who you are and what your passions, preferences and strengths are, so you can speak directly from your heart to the hearts of your potential guests about things that matter to all concerned.
10. Spend more time with people who expand your thinking.  Don't listen to the whiners in your area who have no clue, but won't change.  Hang out with people who have done what you want to do.  Do something that feels like a stretch. Take a risk with your creativity and your finances. Hire a coach or mentor to keep you accountable
11. Fail at something – If you aren't failing, you aren't really trying. Don't expect everything to work first time.  You need to build muscles and resilience to keep going even when something doesn't turn out as you expected it to.
12. Invest in yourself  – Schedule some training events to attend, both online and offline.  If you're not learning, you're not growing, and if you're not growing, you're dying.
13. Block out your holidays NOW! –  Work expands to fill the time available.  If you know you function better after some time away, then schedule it now.  Don't wait and see how it goes, or until you're burned out.  Make it happen.
Lastly, you have an advantage over big chain hotels.  Take it.  It's yours
Yvonne x
Yvonne Halling is the leading consultant, coach and mentor for bed and breakfasts, guest houses and inns worldwide, where clients typically add an extra 20% to their income in one season while working less.  Register here for her Free 5 Day Low Season High Occupancy Challenge here
Save
Save