---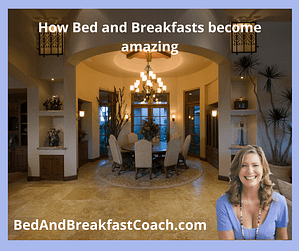 I've been at the Great Hospitality Show in Birmingham UK these last couple of days and I've met with some fabulous hospitality business owners and do you know what always amazes me?
When I look on their websites, I can't see it
When I check out their social media accounts, it's not there
When I take a peek at their listings on the online travel agents, it's definitely not there
So what is it?
Their VALUE
Here's where it is
When I talk to them, they tell me their stories, their hopes, dreams and aspirations.  They talk with passion about their location, their properties, their guests
They share what they know, what makes them unique and I watch them light up as they speak
But when I look at their websites, social media and even their online listings, it isn't there.
Instead, I find the usual stuff about their beds, their attention to every detail and the delicious breakfast
They completely overlook their own value.
I understand this totally
It's not easy to see it in ourselves.
We kinda think, well everyone knows this, or everyone can do that
Well maybe,
But not everyone is YOU
You have your own unique value that only you possess.  It's already inside of you and it's yours to own and to claim
And what's exciting is that more and more travellers are looking for this and are willing to pay for it.
There's never been a better time to be leading with your own value, standing out from the crowd and charging more for it
What do you think?
Leave me a message and let me know
Yvonne 😉
Yvonne Halling is the leading consultant, coach and mentor for bed and breakfasts, guest houses and inns, where clients typically add at least 20% to their income in one season, and report feelings of intense joy and happiness 🙂  Pick up her free report by CLICKING HERE
Save
Save