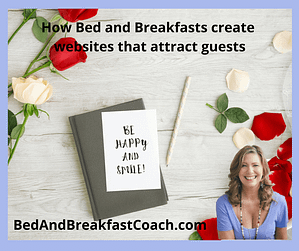 Your website is your shop window to the world.  It's probably the first thing your potential guests will see when looking for somewhere to stay in your area.
So what will they find?
Clear, simple navigation to the information they need and onwards to the booking page?
Think of your website as your "front door", and your job when someone "comes knocking" is to greet them with a smile and invite them in.
So let's take a look at 3 areas where your online welcome could improved
If a picture paints 1000 words
When did you last update your photos?  Are they professionally sized and edited so you are showing your property off, as soon as someone "walks in"?  You have less than 7 seconds to impress your potential guests with your beautiful, inviting photos of your property.  If you're filling up your home page with text, terms and conditions and other random information as soon as they land there, you are missing the opportunity to WOW them
Calls to action
Don't assume that because you've got a good navigation bar at the top, that people will know where to go next.  You must take them "by the hand" and walk them through your website, just as you would if they were there with you in person.  When you've wow-ed them on the front page (at the front door), you need to invite them to see more with "calls to action", so they are not left wondering where to go next.  That's like leaving them in the entrance hall to find their own way around!
Responsive and fast loading
Does your website load quickly across all devices, or are visitors having to wait several seconds?  If your website is slow to load, your  potential guests may get tired of waiting while you "answer the door".
What about being sized correctly across phones, tablets and desktops, so that no matter from where your potential guests are looking, they will always get a great first impression?  If it's difficult to read because they have to scroll across, then will get bored and leave.
Take a look at your website today and make those changes, so you can start attracting all the guests you need
Yvonne x
Yvonne Halling is the leading consultant, coach and mentor for bed and breakfasts, guest houses and inns where clients typically report at least 20% increase in income and spontaneous joy and happiness 🙂  Pick up her free report by CLICKING HERE
Save
Save
Save